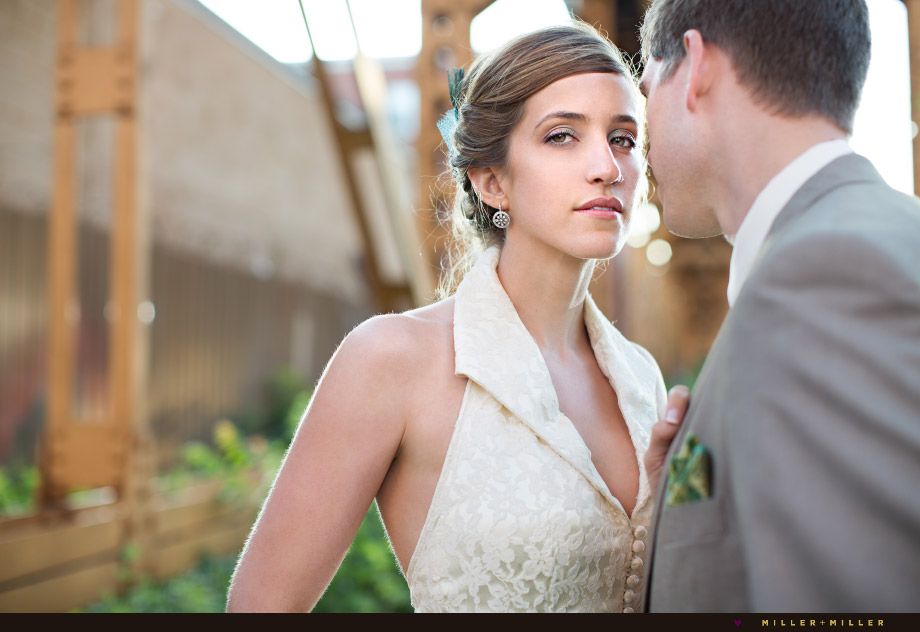 "When we first met with Erica + Austin it was the end of Winter. Our meeting was at one of our personally favorite local martini bar & restaurants in historic downtown Ottawa. ( After learning the couple lived a few hours South of Chicago near Peoria in Washington Illinois we decided Ottawa would be the perfect place to meet. ) Although E+A's wedding date was over 15 months away, it was and is never too soon to inquire about a date with us. For Erica, since photography was a very important and exciting part of their day, they were anxious to start their search early, in order to narrow down their search to a perfect styled photographer exclusively for them. During our meeting, it wasn't long before we found out they are not only fans of photography, but also a number of the arts. They enjoy music, art, and local culture.
We always enjoy photographing a wedding at Austin + Erica's chosen venue Patrick C. Haley Mansion in Joliet. The historic Chicago venue hosted both their reception and outdoor ceremony. At our meeting most of our initial conversations were spent discussing their favorite images from our portfolio of photos, and creating a plan for their day to fit their personality and style. Erica was especially interested in us working together to create magazine style wedding photography. She loved our editorial style, shooting in off-beat locations, and our fashion inspired wedding photographs. In deciding to keep their wedding day schedule more simplistic, Erica proposed to us her interest in adding a bridal session ( an increasingly popular plan to re-wear the dress again for more pictures. ) So A+E decided to book us for a bridal session where Austin put on his suit, and Erica her vintage wedding dress for a second time. We love it when couple's add on the second day of bride and groom photos, it's much more of a relaxed setting, and for E+A we were able to extend their wedding portfolio of images to include photos from not only the Joliet area, but to downtown Chicago too.
The couple's venue Patrick Haley Mansion is a short drive from the home Erica grew up at, and her parent's Naperville home. The unforgettable mansion offered for Erica and Austin the perfect setting, a venue with a flair of vintage, and historic style. Always a beautiful wedding mansion to shoot inside, we enjoyed for Austin + Erica's day and decision on an outdoor ceremony location under the pergola at the Patrick Haley Mansion's garden. If your a frequent visitor to our photo blog, you know we absolutely adore outdoor ceremonies! Erica + Austin's evening ceremony did not disappoint; it was breathtaking, personalized, and consisted of Jewish ceremony traditions. A beautiful early evening and overcast sky blanketed the couple as they stood under a chuppah. The ceremony consisted of vows, readings from scripture, seven guests recited blessings and Austin shattering enthusiastically glass. Concluding the ceremony, following the kiss and exit, a few drops started falling from those clouds lingering in the sky. Luckily the evening's strong storms held off until a mer 15 seconds after the couple's exit from the aisle. The rain's timing was perfect, dramatic and truly like a scene from a fairy tale.
One distinctive element to Erica's meticulous details, was her selection of her gorgeous lace, 1950's vintage couture wedding dress. Before the ceremony, smiles and tissues were close by, and tears we captured as mom and grandma both helped Erica put on her gown. For us, it was one of the most emotional set of putting on the dress photographs we have ever photographed. Erica's dress held a extra special meaning. The gown was originally made couture for Erica's grandmother in 1952. And then it was worn a second time by her mother. On Erica's day, this was the third time the gown had been worn. Below are details Erica provided about the three generations wearing the same dress:
"My grandmother had a seamstress in New York create a couture gown for her in 1952. She picked out the satin and lace herself and had the wedding dress made for around $12.00. My mother wanted to wear the dress again for her wedding in 1982 but my aunt had to remake the skirt (she bought matching fabric from the original store in NY!) because it had been made into Barbie clothes when my mother was little. I too had always dreamed of wearing the dress but wanted the bodice to be altered slightly into a more modern shape. I had the raglan sleeves and high back removed so that it was a scoop-back halter dress instead. My mother wore it without a hoop skirt, but I had a detachable tulle skirt made for the dress because I preferred the full ballgown look. Every 30 years the dress is worn and altered. It is our favorite family heirloom!"
Throughout the night, we heard several people asking to hear Erica's dress story. The vintage wedding fashion was one inspirational element behind the decor selections for the event. But when finalizing and completing her bridal appearance from head to toe, she mentioned beyond find the task of choosing a seamstress to fit the dress perfect to her, she put a few hours of searching into finding some amazing heels to strut down the aisle in. Her choice was deciding on some impressive Jimmy Choo "Surf" suede and Swarovski crystal platform sandals. The shimmering Swarovski encrusted heels were a perfect choice to complete Erica's evening glamour. Erica added a bold punch of colors to the event in dark hues, and jewel tone shades inspired by a peacock theme. We enjoyed the couple's style, personalities and to Austin + Erica it was a pleasure working with you. We hope to see you again soon, wether it being in the future should our travels bring us out by your new home in Tucson Arizona, or if you're back in the Naperville area visiting family. Hope you enjoy our selection of favorites images from our two days together. It was great getting to know you. Good luck to you both!
A few of Austin + Erica's planning details:
Theme: Vintage Peacock Glamour
Outdoor Ceremony Location: Patrick C. Haley Mansion Joliet
Reception Venue: Patrick Haley Mansion Ballroom
Dancing: The Conservatory inside the Mansion
Suits: Wilke Rodriguez from Men's Warehouse
Bride's Prep Location: The bride's parents residence in Naperville
Bridal Dress Designer: Made couture for my grandmother in 1952
Dress Seamstress: Sew Special
Bridal Shoes: "Surf" by Jimmy Choo with heels featuring Swarovski Crystals
Bride's Jewelry: Vintage
Wedding Bands + Rings: Custom by Jones Bros. Jewelry
Hair: Bree from Corpo Bello Salon
Makeup: Acacia Douglas at Chanel
Birdcage Veil + Fascinator: DIY by bride
Bridesmaids Dress: Gown #363 Liz Fields
Cake: Eat Moore Cakes
Flowers: ZuZu's Petals
Photo Booth: Traveling Photo Booth
Invitations: Created by the bride and Erica Cronk
Decor: DIY by bride
First Dance Song: "Hurry" by Sleeping at Last
Wedding Night Accommodations: The Ruby Room Inn Wicker Park
Bridal Session Beauty Services: The Ruby Room Spa + Salon
Honeymoon: Santorini, Greece
Bride DIY Items: Erica's says she pretty much made everything including: the unity candle, invitations, ceremony chair decor, chuppah, guest bags, reader/grandma corsages and reader/grandpa boutonnieres, window decor/candles, card holder, veil and fascinator, escort cards, cake stand, programs, etc.
Favorite Memories of the Day: "Both Austin and my favorite memory of the whole day was seeing each other for the first time, walking down the aisle: we felt like we were the only people in the world. And it was sweet to see how emotional Austin was! The ceremony was so special to us; we couldn't stop smiling at each other…"