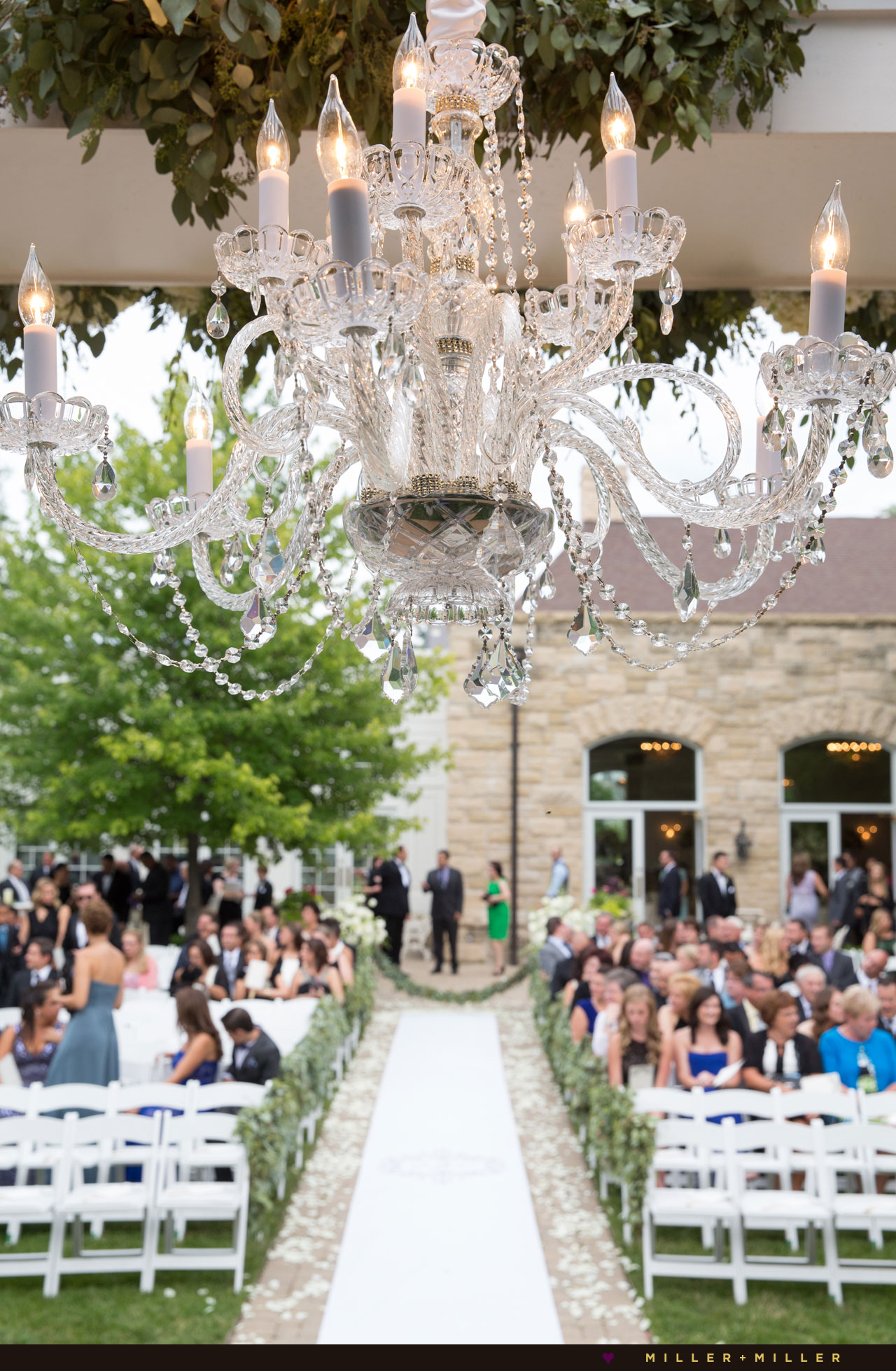 Want to see more from the Guillen wedding? Watch the video from Ozzie + Sarah's wedding filmed and edited by Jimmy + Stephanie Wilderman of Captured in Frames.  
"We are thrilled to be finished with our web site re-design (well almost) and share more recent photos including Ozzie Guillen JR and Sarah Wilkinson's wedding day. We met with Sarah + Ozzie Guillen JR awhile back at our house and we were honored to hear they decided to book Miller + Miller to photograph their downtown Chicago engagement photos and wedding photography. Ozzie + Sarah choose a popular elegant Chicago area wedding mansion we have photographed at several times The Patrick C. Haley Mansion. Every visit to the mansion for us is always as great, if not better than the last! Like many of our clients, we adore Chicago weddings at venues with impeccable architectural style. The Haley Mansion has a historic environment and lush gardens which provide a fabulous setting for fashion inspired photographs inside the mansion and beautiful natural photos outside in the backyard gardens around the estate. A private home with three stories and numerous historic rooms, couture magazine and editorial style wedding photographs in our fashion photography lighting style come easy at the Patrick Haley Mansion in Joliet. Almost all of Sarah and Ozzie's entire wedding day photography occurred at the mansion where we captured the couple's first looks at one another and wedding photography of the bride+groom by the mansion's mahogany bar and upstairs in the parlor & music rooms all before the outdoor backyard ceremony began.
Baseball and Chicago sports fans may have already recognized our Chicago celebrity groom Ozzie JR and the famous Chicago Venezuelan Guillen family.  Over the past few months, we have enjoyed getting to know you both and photographing each of your families at the mansion. The emotional ceremony was a beautiful testament to your love Sarah + Ozzie. Welcoming one another in Spanish and English into each other's families, with each of your extended family at your sides, created both an emotional and joyful day for all. We loved photographing your ceremony moments, through the tears of happiness and joyous smiles.
Ozzie + Sarah's exclusive event was an elegant + classic July midsummer night's dream wedding beautifully decorated with an abundance of fresh green greens, eucalyptus and rose garden inspired flowers in arrangements, plenty of smiles, occasional sunshine, and even a few rain sprinkles – which thankfully held until just after the kiss so the picturesque outdoor garden ceremony with wedding vows under the hanging crystal chandelier could finish just in time before everyone quickly dashed inside the mansion away from the rain. A full guest list, visitors to the Joliet's Patrick Haley Mansion to witness the marriage of Sarah + Ozzie included attendees of family from near and far, fellow sports players, and Chicago White Sox baseball sports celebrity guests helping to celebrate and welcome the newly wedded Guillen couple.
Even with Chicago's unpredictable weather, we always say go for an outdoor wedding. We enjoy how personalized outdoor ceremonies are and hands down we love photographing outdoor Chicago wedding ceremonies. The classic wedding ceremony look at Patrick Haley Mansion under the pergola and lush garden are always memorable. The bride Sarah turned to her hometown florist Flowers Plus Streator who personalized the space and elegantly styled the property from the inside out. The already captivating gold & white wedding mansion conservatory ballroom and outdoor gardens were flooded in gorgeous flowers and fresh floral arrangements. The stunning results were a perfect backdrop for a timeless elegant wedding right out of a dream. The English garden inspired wedding flowers theme included soft shades of blush, dusty pink, ivory, white, light pink, soft purple and greens with several fresh flower varieties of ivory David Austin roses, peonies, sweet pea, dusty Miller, ivory spray roses, rice flower, wax-flower and eucalyptus. Our favorite floral element was the eucalyptus garland lined ceremony aisle and combination with a hanging crystal chandelier over the outdoor ceremony altar.
Typically around the time of selecting a photographer, the bride and groom look at fashion options choosing a tux or suit which is complimentary to the bride's bridal gown fashion style as she envisioning the two together walking down the aisle and posing for wedding photographs.­ We loved the straight out of a magazine fashions and clothing styles for the bride and groom with Ozzie's monogrammed suspenders and custom purchased Miami designer L. Gotti Collection suit and Sarah's two piece Paloma Blanca dress. While lately some brides select more than one gown, instead of having to buy two dresses, Sarah customized her day wearing a two-in-one dress taking off her belted and detachable English net & tulle train outer skirt after the ceremony to have a whole new reception look without an elaborate changing.
From Ozzie + Sarah's elaborate flowers, to the lively evening with salsa dancing, two sets of entertainers of an 11 piece wedding band and late night DJ with live drummer, photo booth and a cigar roller, Ozzie + Sarah had the mansion packed inside and out with numerous unique touches to keep the energy of the night flowing for all the guests all with personalized reflections of the bride + groom adding unique touches on classic traditions. Many of our engaged couples we have photographed recently as Chicago wedding photographers say during planning on the top of their wish list is to "make our wedding unique" and in order to get that ultra unique feel, brides and grooms (and their planners and florists and caterers and photographers and even entertainment) are getting more and more creative. We were humbled and thrilled to be selected as your Chicago photographers. Congratulations to you Ozzie + Sarah and thank you for hiring us to photograph your day! Appreciate your extreme hospitality and making us feel like guests and close friends."
Planning your wedding? Read about all the details from the Guillen's elegant wedding to inspire ideas for your day.
Theme: English Garden Mansion Wedding
Wedding Colors: White, gold, taupe and hints of soft blush pink and purple
Wedding Theme: Classic Elegance
Ceremony + Reception Venue:  The Patrick C. Haley Mansion
Hotel:  Harrah's Joliet Casino & Hotel
Wedding Planner:  Bridget Allen, Shannon Gail Weddings & Events
Videographer: Captured in Frames
Mens' Custom Suits: L. Gotti Collection, Miami, (786) 376-4856
Groom Suspenders: Initial Monogramed
Bridal Dress Designer: Paloma Blanca French Alencon lace and English net wedding dress. Sweetheart lace bodice with lace straps. Modified fit and flare lace skirt. Removable Dupioni silk band with detachable English net train. Flowers and lace appliqué cascading on tulle train. Replaced silk band with rhinestone sash for reception.
Bride's Dress Shop: Mira Couture Chicago
Bridal Shoes: Badgley Mischka, Christian Louboutin
Bride's Jewelry: Hand made white gold marquise and round brilliant cut diamond dangle earrings from Pro Gems
Wedding Bands + Rings: Pro Gems
Hair: Bethany Brown, Reveal Salon Streator
Makeup: Frosted Hair & Makeup
Veil: Single layer veil with pearls and crystal beading outlining the edge from Mira Couture Gold Coast bridal boutique.
Bridesmaids Dresses: Jim Hjelm Taupe organza strapless A-line bridesmaid gown with petite train, raw edged tulip bodice, natural waist. Gold beaded trim around the waist was attached separately.
Bridesmaids Jewelry: Dramatic chandelier earrings with matching bracelets from Kate Spade
Bilingual Pastor: Ismael Adames officiated the English/Spanish Ceremony
Chairs: Prestige Chair Rentals
Caterer:  Bussean Custom Caterers
Menu: Berries and Hazelnut Salad; Julienne of Garden Batonettes; Piped Duchess Potato; Chicken Pesto or Filet Mignon
Late Night Snack: Chicago Style Pizza and Hot Dogs
Cake & Desserts: Creative Cakes 4 tier butter cream frosting wedding cake with alternating layers of chocolate cake with vanilla bean mousse and vanilla cake with white chocolate mousse. Decorated with fresh floral arrangement.
Flowers: Emilie Overy of Flowers Plus Streator Sarah's bride bouquet featured ivory David Austin roses, peonies, sweet pea, dusty Miller, and ivory spray roses.  For her bridesmaids bouquets they included rice flower, Wax-flower, peonies, roses and eucalyptus. Fresh green eucalyptus garland aligned the ceremony aisle.
Invitations: Anderson Creative Group
Signs & Miscellaneous Prints: Anna Kate Design
Guest Favors: Mini Champagne Bottles with personalized picture label of Sarah + Ozzie's Chicago skyline engagement photo
Late Night Activities: Cigar Roller CF Dominicana Events and Photo Booth
Cocktail + Ceremony Music: String Quartet by Bradley Young Entertainment
Reception: 11 Piece Band Bradley Young Entertainment until 11pm
DJ: 11:00-12:30am: DJ Sye Young and Live Drummer LED Drum Set from The DJ Firm,
First Dance Song: All of Me – John Legend
Honeymoon: Europe
Transportation: Windy City Limos
Monogrammed Aisle Runner: The Original Runner Co.
It wasn't long after Ozzie proposed to Sarah when a search for a wedding venue began. The Patrick Haley Mansion set the ideal setting for Sarah + Ozzie Guillen's elegant + classic wedding to occur. Ozzie+Sarah didn't restrict their search to only downtown Chicago wedding venues. Actually, Sarah had decided to search West of Chicago for a location in-between Chicago and her hometown of Streator IL where her parents and family members still reside to exchange vows. Ozzie + Sarah said when they found the Haley mansion in Joliet it was perfect. The Patrick C. Haley Mansion is a private historic landmark estate with a renovated Romanesque style. The mansion was built in 1891 features a stone portico, limestone archways and attached ballroom with conservatory overlooking the estate's lush landscaped backyard was perfect combining history, classic charm, luxury, and character.