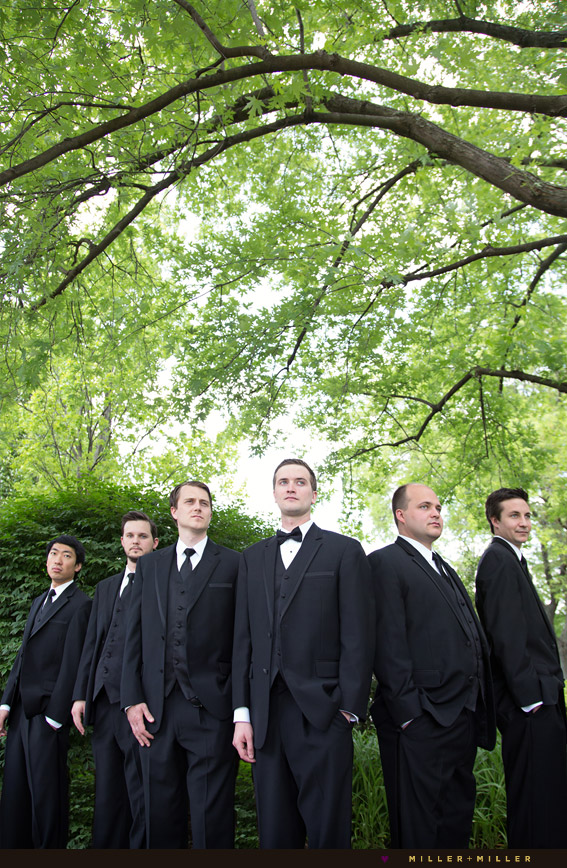 A gorgeous spring wedding day, Matt + Justine's modern vintage wedding is our next set of featured photographs we are blog posting. Their day was complete with laughter, sunshine, smiles, and sparkle. Justine and her family are from Naperville, and Matt's side is from Western Springs. M+J first met while living downtown Chicago, and decided that planning a west suburbs of Chicago event and wedding at La Grange Country Club was perfect for them. In discussing the picturesque archways, columns and courtyard of Matt + Justine's vintage Illinois church, we decided on photographing the bride and groom at the church instead of traveling around town on their day. Immediately after their first kiss and soon after they had become officially wedded, our bridal photo session began right outside the chapel in the church's garden. The setting was perfect for Matt and Justine's requested nature and vintage setting for photos.
On the day of our first meeting, Justine + Matt arrived at our photography studio on their motorcycle. We quickly learned that we had quite a bit in common with them, other than the fact of biking. For instance, Matt has an entrepreneurial spirit and is highly active in a number of different online media and creative industries. In the evenings and on weekends, you can typically find Matt and Justine at one of the popular music venues around Chicago. Usually on stage, Matt is the drummer of the Chicago-based rock band, Pet Lions www.petlions.com. If you enjoy discovering new music, we suggest listening to Pet Lions or attending an upcoming show. (Attending a concert and seeing a band is one of our very own memories from when we first started dating, too.)
Matt + Justine's wedding day unfolded just as we had predicted: an eventful evening reflecting the roar and excitement of a live show. Matt's dad is Steve Dahl. It was an honor meeting Mr. Dahl at the wedding. An inspirational life story, we have an appreciation for Steve Dahl's rising career, and as business owners ourselves couldn't help but to be inspired by his career successes and life story. Steve is a local on-air broadcasting and television celebrity in Chicago. Last summer when Matt first mentioned this info about who his dad was, we were intrigued to learn more about him; so we hopped online, visited the Steve Dahl Podcast Network at www.dahl.com, , and also found a Wikipedia bio about Mr. Dahl. With so much information on the web, it was a great way to get to know the family before the big day. After all, the experiences of the Dahl family are a popular subject Steve talks about throughout his commentary; he's commonly known to talk openly about his personal life and family experiences on-air. Enlivening Chicago airwaves since 1978, Steve is considered "a pioneer in talk radio." Steve Dahl began his career in the Midwest in the 1970s, served as a columnist for the Chicago Tribune, worked for a number of Chicago stations including WLS, and has been "recognized as a highly successful American radio personality and humorist for more than 30 years." On the wedding day, we enjoyed not only meeting Matt's dad, but also had a great time photographing the numerous smiles and stories during each of the reception speeches, the endless moments of laughter, and later the dance floor packed shoulder-to-shoulder with guests surrounding the bride and groom!
Beyond being an extra eventful reception, it was also a well-designed day. From the reception décor, to the elegant fashions of each sparkly bridesmaid necklace and earrings, to the individual rhinestones on the bridal bouquet, each jewel was placed by hand for the ultimate in DIY brilliance. We arrived at the country club in time for the beautiful golden afternoon daylight to fill the reception room. The room's tables were set complete with pretty sparkling and handmade items assembled by the bride and the couple's mothers. The purple and silver room plus décor was exuded a refreshing spring elegance. The silver and purple theme was displayed throughout the room and even introduced as guests reached for their reception's silver beaded place cards. While ushered to their tables, guests were greeted by table numbers in flashy frames, each displaying a different picture of the couple's dog, Walter. Everything about M+J's modern vintage wedding was totally personalized…right down to the couple's donation to PAWS Chicago (where they adopted Walter) in lieu of favors. With so many exquisite details we captured in photos throughout the day, many of them coordinated by the family's wedding planner, Bambi Caicedo Rogers of BCR Events, we could easily feature more favorites for our photography web site's blog posting. Bambi was great and her expertise allowed the day to flourish without flaw.
Thank you Matt, Justine, and to each of your families in hiring us as your photographer – it was incredible working with you and we enjoyed capturing some amazing photo memories on your beautiful spring wedding day. We hope you enjoy our selection of favorite images above reflecting the passion you have for life, love, and family. Congratulations on your new marriage and all the best to you!
Matt + Justine's details:
Wedding Theme: Modern Vintage
Ceremony Venue: First Congregational Church of Western Springs
Reception Venue: La Grange Country Club
Prep Location: Residence in Western Springs
Bride's Lace Dress Designer: Modern Trousseau
Dress Shop: The Bridal Boutique of Naperville Consignment Shop
Bridal Shoes: Ivanka Trump
Bride's Jewelry / Accessories: Sorrelli
Wedding Bands + Rings: Gregg Helfer
Makeup + Hair: Jennifer Soger of Chicago Spa Parties
Bridesmaids Shoes / Accessories: Homemade
Bridesmaids Dress: Banana Republic
Transportation: Windy City Limos
Caterer: The Country Club
Menu: BLT salad, filet, shrimp, carrots, mashed potatoes
Cake: Toni's Patisserie of Hinsdale
Cake Topper: Groom and Bride on a motorcycle
Flowers: Shamrock Gardens of Riverside
Invitations: Rachel Coulter
Decor: Our mom's Janet Dahl, Nancy Higgins
DJ: Paul Jerosimic from Go2Guys
Video: Leap Weddings
Wedding Planner: Bambi Caicedo Rogers of BCR Events
Ceremony Music: Ten Strings Guitar + Violin Duet by Gaudete Brass
First Dance Song: "Take Care' by Beach House
Honeymoon: Maui
Special DIY projects and notes from Justine about their day:
It was all about finding the sparkle and including our dog Walter. Favors including a donation to PAWS the shelter we got our dog at. Table numbers and cards were bedazzled with jewels and picture frames of Walter. Janet Dahl and I beaded all the bridesmaids jewelry (earrings and bracelets). I even had sparkling rhinestones placed on the flowers of my bouquet. Out of town guests were surprised with gift coolers at hotel created by Janet Dahl. The coolers were gray with 2 love owls with the date of our wedding and stuffed lots of fun snacks, and mini Vodka's + Tequilas.
Check out Steve Dahl's current venture, the Steve Dahl Podcast Network at www.dahl.com. Dahl.com is an online network featuring the legend himself and fellow Midwestern and Chicago-area radio personalities. Following in the footsteps of his father, Matt is also creating his own podcasts and a presence within the broadcasting world at www.mattdahl.com. For music and upcoming show schedule for the Pet Lions, visit www.petlions.com.